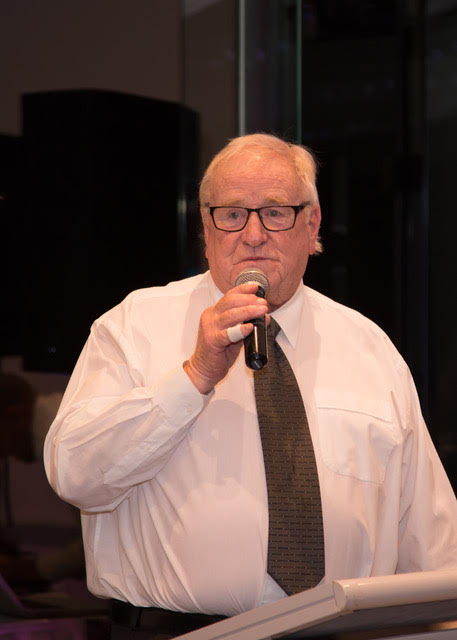 3 July 2021
Warren Anderson joined as a member of what was then Tuggerah Lakes Golf Club on May 12th, 1978 after moving from Sydney a few years earlier, where he was a member of Dunheved Golf Club. While Warren was always a passionate and enthusiastic golfer, he also played a significant role in the development of Soccer in the local area as a junior and men's coach and administrator. In addition, many of our own golfing members have also testified to his dedication and skill in the local Squash competition and his competitive nature.
Warren brought his skills and experience in sport management and administration to the Club when he was elected President in 2001. This was during a period of exciting development of the course layout, including the introduction of the tertiary watering system. He continued in that role till his election as Captain from 2004-2009. During that period, he was the delegate to the CCDGA, and was also the Vice-President of the District Association. He had a significant positive profile across the Central Coast during that time, and was always keen to promote both Junior and Senior Pennants, as well as extend opportunities for our Lady golfers. He took a personal interest in supporting and mentoring our developing Juniors and was always supportive of JNJGF events. He was instrumental in raising men's handicaps from 27 to 36 to encourage more Senior men to continue with golf. He also worked with the Ladies Executive to expand equitable access to competitions for working Lady golfers.
In his role as both President and then Captain, Warren brought a practical and pragmatic objectivity to the position, with a clear priority to make decisions that were in the best interests of all members. He dedicated whatever time was required to fulfil his roles, which resulted in him spending significant periods of time with staff, both on the Course and in the Club.
Warren had a true love for the game and he would play in any conditions. He would check the sky in the morning and if there was the tiniest patch of sky that was lighter than the rest, he would convince everyone "look, it's clearing over there, we'll be right". He definitely made good use of wet weather gear, and he had every wet weather tool known to enable play in all conditions, his golf cart draped in towels to dry the grips of his clubs.
Warren never gave up and he never NCR'ed no matter what, including when he had his infamous tumble down the side of the 4th hole searching for an errant tee shot. With blood streaming into his sock he continued on. That wound turned into an infection that nearly killed him, so probably it was not a great choice to keep going that day. Or the day his daughter Leah got hit in the head with a golf ball. After he assessed there was no concussion, he said, "righto then, we'd better hurry up", and on they went.
On a sociable level, Warren was also a great supporter of the Club, with the odd pint of Guinness the order of the day after a round of golf, and many Friday nights spent in the Dining Room with friends. Warren truly put his heart and soul into Tuggerah Lakes/Shelly Beach GC. He spent countless hours at the club, working for the benefit of others, without regret. But like a great leader, he knew when it was time to step away, to make way for new ideas, new contributors. In recent years, his broken body prevented him from playing, a deep regret for him, but he never lost his love for the game or his interest in SBGC.
Warren's contribution to the development and success of Shelly Beach Golf Club was recognized with the award of Honorary Life Membership on November 10th, 2014. Warren passed away on Saturday, July 3rd, 2021. Warren's family will always hold SBGC as a pivotal part of their lives for decades, and thank everyone for their kind thoughts.
When possible, there will be an informal memorial for him at SBGC. The family request it be available for anyone who would like to attend.
RIP Warren Anderson.