28 May 2020
To all members of Shelly Beach Golf Club, it is an appropriate time to communicate the status on 3 key areas of interest to all members.

What is the financial status of the club?
The golf club entered the COVID-19 pandemic with business at record levels, a healthy bank balance and no debt.
In March, by Government decree we closed the clubhouse, and we immediately created several financial models to understand the projected cash flow of the club. Our initial modelling indicated that if the clubhouse were to be closed until December and golf operating at 50% of pre COVID -19 levels, our healthy bank balance would be gone and we would have a small amount of debt. This view was supported by our external auditing firm Bishop and Collins.
I am happy to report that subsequent financial modelling has indicated our cash position to be better than the original forecast due to better than pre COVID–19 demand for golf competitions and the Job Keeper program that is subsidising 80% of our wage bill until September.
With the actual results exceeding cash flow forecast, the board decided to progress with various capital works programs included in the 3-year strategic plan.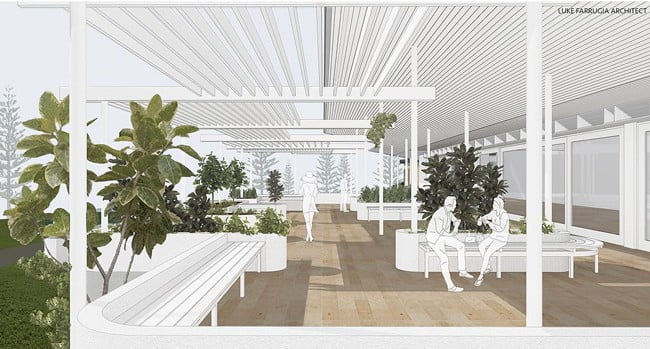 What is the status of initiatives in the 3-year strategic plan?
In May 2019 we communicated the 3-year strategic plan that had a vision to aspire to becoming the best golfing and social experience on the central coast for our members and community.
The vision was to be achieved by:
An efficiently managed business that has a sound financial base.
A Golf Course that is rated in the top 100 public access courses in Australia.
A modern clubhouse that takes advantage of its unrivalled ocean views, with first class hospitality and a variety of entertainment.
In this communication I do not intend to update every initiative; however I will update you on the initiatives associated with the clubhouse.
Stage 1 was to consist of a Northern Terrace being erected to take advantage of the unrivalled ocean and golf course views, providing patrons with the ultimate alfresco area on the coast. The project has increased in scope to improve the viewing experience of patrons watching live entertainment with the removal of the roof pillars and the addition of an operable door to allow the main lounge area to host functions without closing Aqua. This work will be complete mid-June at a cost of $215,000.
The Terrace itself will require another $600,000 of expenditure and I anticipate the board will approve the expenditure based on current operating performance and its ability to house more patrons during COVID–19 and beyond. If approved, work will commence mid-July and be completed in October.
Stage 1 was also to consist of a remodelling of the top bar; this has been shelved in the short term as we conserve cash.
Stage 2 was to consist of a major remodelling of the bottom bar, with an improved TAB/Gaming area, sports bar and food offering. However, this will now proceed to development approval stage with the council until the board is confident, we have the funds to financially execute the project without placing undue pressure on the club's finances.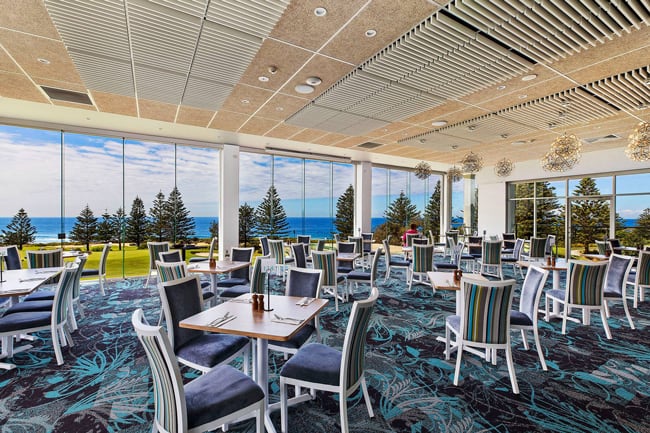 How and When will the Clubhouse open.
The NSW Government has announced that from Monday 1 June 2020, restaurants and cafes across NSW can open in line with guidelines.
We are allowed 50 patrons for each dining area taking into account there is 4 square metres per person inside the venue. A dining area is a place where a patron can sit and consume food.
The Club is required to have at least one Covid Marshal on duty to ensure patrons are complying with the rules.
All patrons including members of the club will be required to sign a register with their name and phone number when entering the venue.
It is not necessary to purchase food to be able to enter the venue and the kitchen does not need to be operating either. Patrons will be required to be seated when in venue and adequately spaced under the 1.5 metre rule. If anyone is showing symptoms or is ill, they will not be able to enter the venue.
Patrons are allowed to enter the gaming room and use the gaming machines, again they must be 1.5 metres apart.
Due to the restrictions in place it is important for the Club to make a few changes. The Club will operate in a similar fashion to pre Covid 19 in its operating hours. Due to the requirement for the adequate spacing of chairs and tables, we will be removing the snooker tables from the bottom bar and placing them in storage to allow for more patrons. As we are now in Winter it is important to maximise our internal space.
We have made the decision to open Aqua for lunch and dinner from Thursday the 4th of June, and it will then be open 7 days Monday to Sunday. The upstairs floor of the Club House will open from 11am each day. Please call the Club from 11am if you wish to making a booking for lunch or dinner.
The maximum group you can book individually is 10 and we require a deposit to be taken at your time of booking for group of four or more.
A new reduced Menu has been created by Chef Mel and I am sure we are all waiting to try the new menu.
In summary the whole process of the nation moving out of "lockdown" continues to change daily if not hourly, so don't be surprised if what we tell you today is different by the end of the week.
We should not lose sight that many people globally have lost loved ones, many individuals have been extremely sick and lost their incomes, yet for the vast majority of our golfing members we have continued playing the game we love.
Now is not the time as we reopen our doors to be complacent with social distancing practices and good hygiene, and that is why through the entire journey we have followed government and our industry peak bodies advice.
In closing, you were a member of a vibrant and healthy club providing a great golfing and social experience prior to the pandemic, and as we take measured steps to reopening our doors please be patient as it will take time and change to get back to where we were or whatever the post COVID–19 normality might be.
Regards Malcolm
President Shelly Beach Golf Club