We certainly finished the year in style. Our members embraced the season by dressing in their finest festive outfits for our last competition day of the year. This was the day to celebrate our achievements for 2018. Congratulations to all our worthy winners, you played extraordinary golf this year, deserved all of your awards. Particular mention to Trish Howard who was the overall Division one winner of the Mable Mackenzie Brooch. This is an incredible achievement, well done Trish. Thank you to everyone who made this day extra special, especially all our trophy donors, you are incredibly generous, and we greatly appreciate your support.
Our Monday ladies finished their year with a presentation following the comp of the day, they too were dressed in their Christmas finery. Congratulations to all the winners for the year.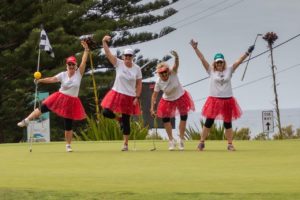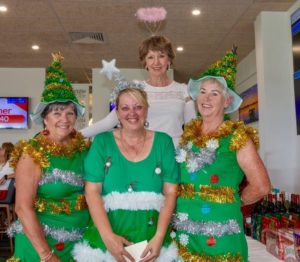 Continuing on the celebrations, over 70 members gathered for our Roaring 20's Christmas Party. Everyone looked amazing in the glitz and glamour of the era, dancing the night away and enjoying the company of this wonderful "sisterhood" the SBGC Ladies. You certainly know how to party!
This was another month when our Shelly ladies showed their talents further afield. Congratulations to Kim Burke, Jo Spears and Fran Turnbull, who were all recognised at the Central Coast Golf Association District presentation night. Kim teamed with Scott Armstrong to win the 2018 Mixed Foursomes Championship, Jo was the 2018 Challenge Cup ladies A Grade Handicap winner, and Fran won the 2018 Challenge Cup Ladies Best Over the Field. Well done to you all.
Thinking of our members who have been in the wars lately, either with injuries or ailments. We wish you all a speedy recovery.
Just a reminder ladies to book your teams for the Volkswagen Scramble being held Wednesday 30 January. Our Open Day is Wednesday 6 February, so get your teams organised for what is always a fabulous, fun day.
Thank you all for a truly wonderful year of golf and fellowship, we are blessed to have the best group of women who support one another; celebrating each other's achievements and there for one another when the chips are down.
On behalf of the ladies committee, may 2019 bring you all you wish for and be filled with laughter, good health and even better golf!
Warmest wishes,
Jennifer Siegel
LADIES PRESIDENT